This example explains the installation and flush mounting of the 7'' SVEN touch panel. SVEN is a touch-sensitive screen that displays the digitalSTROM installation on a single user interface. Thanks to the connection via a single EDP cable, an installation of the device is possible.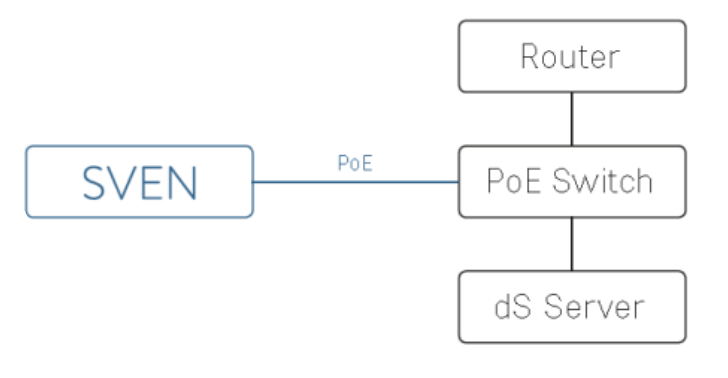 Assembly
When purchasing a SVEN the standard package contains the following:
1 x SVEN 7'' touch panel
1 x wall bracket
2 x bracket feet (for the free standing version)
1 x power supply unit (cable length 145 cm)
For flush-mounting, an additional inlet box is required, the size of which corresponds exactly to the recess for the display in the wall.
After fixing in the wall, SVEN can be connected to a PoE switch via an EDP cable (min. Cat. 5 S/FTP). If no PoE signal is available, the included power supply can also be used as a power supply. In addition to the EDP connection, a 230V supply line is required. Due to the lack of space, this variant is not recommended for wall mounting.
If this connection is guaranteed, SVEN automatically starts to read out the data from the dSS and visualises them in the user interface.
Flush mounting:
Fixation of the support frame in the inlet frame
Connection of the device via PoE or power supply unit
Fixation of the SVEN screen in the support frame
Free standing assembly:
Fixing of the two supplied bracket feet
Connect device via PoE or power supply unit
installation
With the connection to the dSS, SVEN starts by default to read out the existing data of the local digitalSTROM network and to take it over. This process takes about 10 minutes.